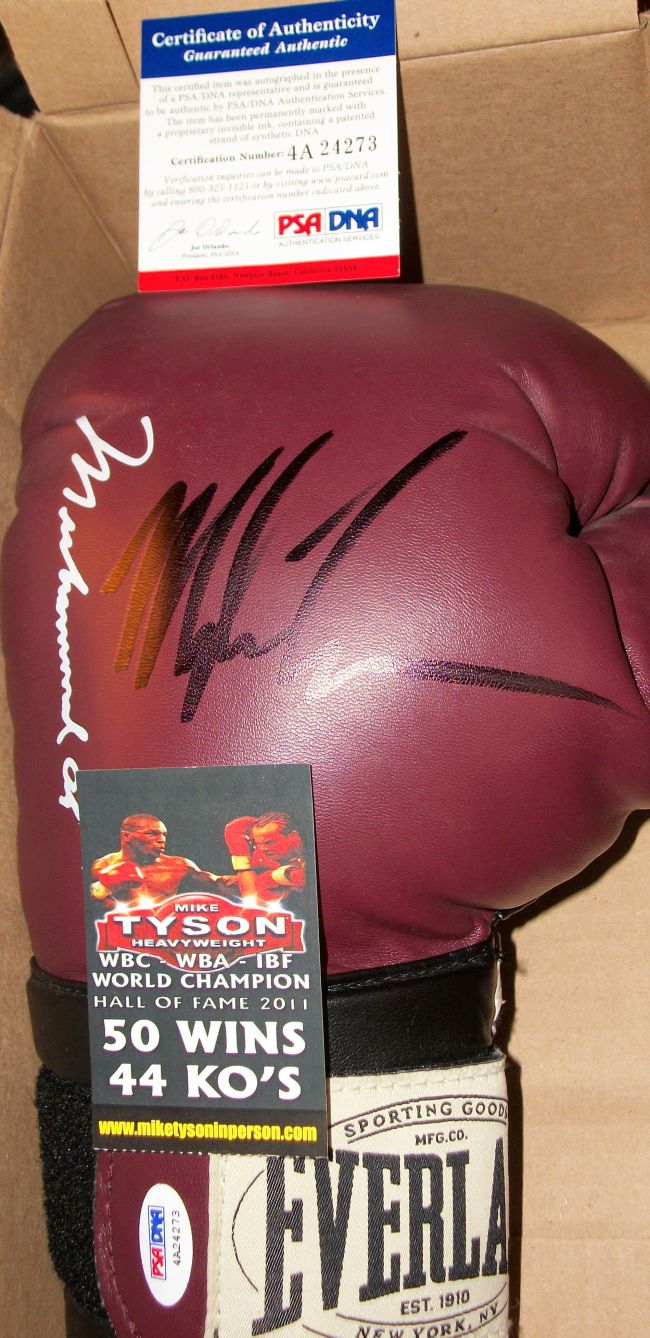 "Iron" Mike Tyson appeared at Studio 54 on November 12, 2011 to sign autographs for a steady stream of fans. Fight News Unlimited was on hand to get a Muhammad Ali Signature Series Boxing Glove signed by Tyson. The glove will be raffled off in coordination with
the 89th Birthday celebration for the late, great Rocky Marciano to be held in Brockton, Massachusetts on August 31 through September 2, 2012
. The official date and time of the raffle drawing will be announced at a later date. The dedication of a larger than life statue of the only heavyweight champion to ever retire undefeated will be part of next year's festivities. The proceeds of the raffle ticket sales will benefit a memorial plaque for Brockton's own Mike Pusateri, considered by his friends and fans as "The Original Iron Mike."
Pusateri was a middleweight boxer in the late 60s and early 70s.
Fight News Unlimited put up a tribute piece in his honor not long after his recent untimely death
. The raffle's proceeds will go to a decorative memorial plaque to be placed somewhere special in Brockton to honor Pusateri's boxing career and support of the local boxing scene over the years. Pusateri not only fought himself, he also trained countless young fighters in retirement, including famed world-class Trainer Freddie Roach. The plaque will likely cost over $2,500 and will be commissioned
by the same company used to give tribute to Rocky Marciano Trainer Allie Colombo
:
Your $5 ticket will go toward the memorial fund to pay for the plaque in Mike's honor. The winner receives the signed glove (see above photo), a certificate of authenticity, and the event card for the November 12, 2011 Studio 54 signing. The winner will not have to pay shipping and handling should it turn out to be a raffle participant who is not in attendance at the live drawing. We will ship the item at no charge to the buyer in that event. Just click on the donate button below for a chance to win this glove, which is valued in the
$275 to $495 range
. Once we receive your payment and information you will be entered into the drawing.
We will be holding official events in the Brockton area to raise additional funds for both the Pusateri memorial and a project to produce a documentary film on Brockton's contribution to the sport of boxing over the years. Stay tuned for more information, and thank you for your support. If you were a friend of Mike's or knew him well, please leave a comment on this story about what you remember and miss most about "The Original Iron Mike."
BUY YOUR $5 RAFFLE TICKET BY CLICKING ON THE DONATE BUTTON BELOW