By: Rich Bergeron
I had the pleasure of meeting and chatting with the late, great Guerino "Goody" Petronelli for the first time a few years ago when I lived one town over from Brockton, Massachusetts and wanted to make a boxing comeback after about 10 years away from the sport. Walking up the 44 steps leading to Petronelli's gym at 28 Petronelli Way for the very first time, I could hear the telltale thwack of a speed bag being worked and the jarring beeps of the round timer going off. Upon entering the facility, I felt like I just stepped into a museum highlighting the storied boxing history of Brockton. There were faded news clippings and old fight posters covering almost every inch of the wall space.
Some of the area's best fighters in just about every weight class were known for frequenting Goody Petronelli's place of business at some point in their careers. Many of them were on those walls, frozen in time and staring perpetually at prospects and seasoned pros who kept the Brockton boxing tradition alive.
Petronelli spent nearly three decades in the United States Navy and retired as a Master Chief in 1969. As a former boxer himself, he was passionate about the Sweet Science and quickly put the pieces together to start a career as a trainer. His brother Pat would play a managerial role while Goody would train, corner, and serve as cut-man for all his fighters at the amateur and pro level.
I interviewed Goody on my weekly radio show in July of 2009, but when I first ducked my head into his office and introduced myself he shook my hand and promptly located a signed picture of "Marvelous" Marvin Hagler (62-3, 52 KOs) to give me. "He signed thousands of these back in the day," Goody told me, asking me if I wanted a poster to go with it. Petronelli had the same poster looking over his shoulder every day as he sat at his desk in the corner office of the ratty gym.
"He was all business," the trainer recalled about Hagler in our 2009 interview, which he graciously allowed to go more than an hour long. "He was one of the greatest middleweights of all time." He went on to explain that Hagler "never got hurt, and he never complained."
If it hadn't been for Petronelli, the city of Brockton might not get all the glory and the bragging rights it enjoys today for being "The City of Champions." Before Goody came along, Rocky Marciano (49-0, 43 KOs) was the only world champ to claim the working class city as his home. Petronelli's gym enterprise might have actually been named Marciano's Gym if the Former Heavyweight Champion of the world did not die far too early in a freak plane crash on August 31, 1969.
"Rocky was a good friend of mine," recalled Goody. "Had he not been killed, he would have been my partner in the gym with my brother Pat and I. Before I retired out of the Navy I was up in Detroit, Michigan. We had a naval air station up there, and I was the coach of the Navy/Marine Boxing Team. And, I had Rocky come up from Brockton, and he flew up and he refereed all the matches for me and put out his posters all over the base, and it was real nice of him to do it. He didn't charge me a dime."
Marciano asked Petronelli back then what he planned to do next, and Petronelli told him he wanted to open a gym back home in Brockton. The "Brockton Blockbuster" immediately asked to join the effort, and Petronelli obliged him. The trainer was in California when he did ultimately retire, and he was driving across the country when he heard the news of the plane crash that killed Rocky.
"You could have knocked me over with a feather," he said. "It was terrible, because Rocky was a great guy. Of course he was a great fighter, but he was also a great individual. He was really a down to earth guy, very honest, you know."
Petronelli was ringside for Marciano's greatest moment of glory against Jersey Joe Walcott in their famous title tilt back on September 23rd, 1952 at Municipal Stadium in Philadelphia, Pennsylvania. He remembered Marciano going down in the first round and looking terrible through most of the fight. "I wouldn't bet you a plug nickel that he would even finish the fight," he recalled. "Lo and behold in the 13th round, Joe Walcott goes against the ropes and turned to throw a right hand at Rocky, and Rocky threw an inside right and boy, he caught him right there on the chin. That's that famous picture that's worldwide, and you coulda counted to a hundred."
Goody and his brother Pat Petronelli, who died last September, built and ran the gym without Rocky's help, but not without his inspiration. Goody understood Rocky was no freak of nature and made it to the top through sheer hard work and determination, treating his road work and conditioning like a religion.
"We trained him like Rocky Marciano," said Petronelli about preparing Hagler for his famous fight with Tommy Hearns back in April of 1985. That bout will go down in history as one of the greatest fights ever, and Hagler won by way of a stunning third round knockout.
"The thing is a trainer, we can't give you a chin, and we can't give you heart, but we can teach you how to fight," Petronelli explained. "So, if a fighter's got those two qualifications, we can make a good fighter out of you." Goody recognized early on that Hagler had a heck of a chin and pointed out that the only time the former middleweight champion went down in a pro fight, it was actually a slip and not a legitimate knockdown. Hagler first came into Petronelli's facility one day as a young teen from New Jersey convinced he could become a world champion. Goody recalled that Hagler was so cocky that he was already signing autographs proclaiming himself the future champ of the world when he was just 16 years old. Petronelli would run the beaches of Provincetown, Massachusetts with Hagler during his prime years just as Rocky's trainer Allie Colombo ran alongside his champion throughout his pro career. Petronelli remembered those days running on the beach, pointing out the fact that Hagler always wore work boots during his runs and "was always in tip-top shape." He added that running with Hagler "kept me in shape, too." A good perspective on those days can be found in the following clip narrated by former Hagler Sparring Partner Tiger Moore:
http://www.youtube.com/watch?v=cHNaFGv1VdQ
An article about the famed trainer's Brockton gym published in the Boston Phoenix back in 2002 pointed out: "You get the sense that if every piece of duct tape were stripped away, the place would fall apart." I trained there in the spring and summer months of 2009, and I can vouch for that characterization.
"Nothing fancy, but it's a gym," Goody said proudly about the spot where he taught so many capable pugilists over the years. Still, it was the kind of place any young and hungry boxer would want to be, a place where they could learn from the best in the business and work with folks who knew how to mold ordinary men into world championship material. It was better than being on the set of a Rocky movie, because this was real, this was gritty, and this was where any boxer could draw inspiration from knowing that so many great fighters had passed through the facility in their prime.
"I come from a family of 12. Five girls and seven boys, and you had to be tough in order to survive," Petronelli explained about how he first got into boxing. "So, I was only about ten or eleven years old, and I was in the gym. Some kids take up football, baseball, you name it. I got into boxing when I was a young kid, and I fought in the amateurs and fought pro and boxed all through the Navy. When I got too old to box I trained, and that's been my life. I've had great luck with it."
My own boxing comeback would begin and end right there in Goody's gym. Though my first sparring opportunity left me confident and proud of bloodying my opponent's nose within the first thirty seconds, the next session left me with a broken rib. I didn't feel so bad about being put down on one knee when I later heard my sparring partner, Sean Bettencourt, went on to win the New England Golden Gloves in 2010. Bettencourt is now in the process of trying to secure a slot in the 2012 Summer Olympics in London.
"I like the kid that comes down the gym, and he gets a cut lip and a black eye, and he comes in the next day and says, 'Hey, I wanna box him again.' That's the guy we're looking for," Petronelli said. "You know, they're not as hungry today, as you know, as they were years ago. Today, they've got so many obstacles in their way." I suppose I proved that statement to be correct by getting fat and out of shape after the rib fracture and a subsequent broken ankle, and I certainly was not the kind of kid Goody was looking for, but I still haven't given up on getting back in the game at some point.
During the nights I frequented the Brockton gym, I watched countless young men like Sean Bettencourt hit the bags, skip rope, and spar in the two floor rings by the giant bay windows lining one side of the main gym area. As a boxer who relied on the jab more than any other punch, my favorite part of the gym was a small sign on the wall that read: "When in doubt, jab out."
I was in the middle of a training session at Goody's gym one night when Kevin McBride (35-10-1, 29 KOs) was in the ring hitting the mitts with Goody. Kevin's young son saw me knocking around a heavy bag and confused me for his father at one point. I laughed it off and kept going, pointing at the ring to show the boy where his real father was.
McBride and Petronelli had a very close friendship, and even when the odds were heavily favoring McBride's opponents during his own comeback, Goody was there every step of the way believing his protégé could beat those odds. McBride was older, more robust, and a few steps slower than he was when he retired Mike Tyson back in June of 2005, but with Goody working with him he had a real chance to get back into prime condition. "He's back in the gym training, and hopefully we can get him a few tune-ups and go for the big one," said Petronelli back in 2009. "I've had him from day one, right from Ireland. He came over here, and I worked with him, and he had a lot of talent."
A few fights after he came back to work with Goody, McBride would be in the ring with Tomasz Adamek, who was 43-1 at the time of their April, 2011 bout for the IBF International Heavyweight Title and the WBO NABO Heavyweight Title. Though McBride lost a unanimous decision, Petronelli didn't lose hope at any point in the fight, using every break in the action to coax his fighter to keep trying to close the gap and get within striking distance.
Pat Petronelli's son Tony Petronelli (42-4-1, 22 KOs) had his own world championship hopes dashed by Wilfred Benitez as a young welterweight, but he went on to become a world class trainer after retiring in 1979. "He was our number one man. He was the North American Champion, and he fought for the title," said Goody about his nephew. "He was a great little fighter, and he could box like you know what, but he wanted to fight like a Puerto Rican. He'd just walk in and bang. He was a tremendous fighter, and he did a great job."
Tony was actually my own trainer until Bettencourt's body blows derailed my short-lived comeback. His father Pat and his uncle Goody passed the family business and legacy onto Tony, who now trains boxers in a new Stoughton gym and remains very active in the boxing scene as a true ambassador of the sport.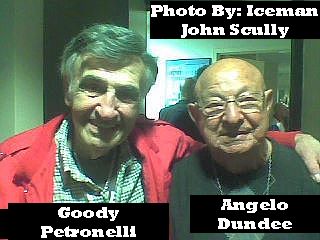 There will never be another trainer quite like Goody, but there are countless young fighters and seasoned trainers who were influenced by him. They will be his greatest legacy at the end of the day. Just meeting and talking to him was an honor for me, and I'll never forget knowing him for the short time I did and spending those nights in his gym developing my own boxing skills. As the boxing world mourns Goody and his colleague Angelo Dundee (who died just a few days after Goody), they will look back to their prime years as the golden age of the sport. And it's a sport both men helped put on the map by mentoring some of the greatest fighters to ever enter a boxing ring.
Goody's Obituary and Online Guest Book:
http://www.legacy.com/obituaries/southofboston-enterprise/obituary.aspx?n=guerino-petronelli&pid=155726546